Digital strategy for business-to-business (B2B) is different than it is for business-to-consumer companies. B2B companies need a bold, inspiring vision, but must balance it against the realities of their industry. Stankevicius offers a practical approach to begin making immediate progress.
It all starts with your customer.
Here's a quick overview of what you need to do in order to set a B2B marketing strategy that actually works:
Define your customer and what they want
Review the competition
Identify your competitive strengths
Set your goals
Choose your channels
Launch and reassess
Getting Clear About Your Customer
To understand your customers you have to actually talk to them. When you do, the goal is
to get answers to questions like:
Why do people buy my product?
What job do they need it to do?
What people do if they don't buy my product?
What are the specific words people use to describe my product?
If they recommend my product, what do they say?
What are the obstacles for people to buy?
How do people shop for products like mine?
Where do people go for information on products like mine?
You need to have a thorough understanding of your ideal customer before you can move on to set any strategy.
Review the Competition
When reviewing your competition to sleuth out the best strategy for your business, you'll be looking for things like:
Which channels do they use?
Who are they targeting?
What do they say and how do they say it?
What types of media do they use?
What's working and not working?
Where does their traffic come from?
Identify Your Competitive Strengths (and Weaknesses)
Now that you know who your customer is and what your competition is doing to serve and market to your customer, you should have a pretty good idea of your competitive strengths. With this in mind, you'll create a position for your business.
A position is pretty simple: it answers the question "Why you?"
Often, positioning comes down to a few huge factors:
Price
Customer
Features/benefits
Ease of use
Company identity
Process
Efficacy
Set Your Goals
Your goals should be SMART goals, meaning they're at least somewhat measurable so that you know if you're headed in the right direction. At a minimum, you should understand things like:
The amount of leads and sales you need to make a marketing campaign worth your time
Your available resources to produce the content needed
Your appetite for brand building and fast v. slow wins
How your marketing strategy aligns with sales
So when setting a goal, you should understand if it strategically aligns with your business, then get specific about the goal itself. For example: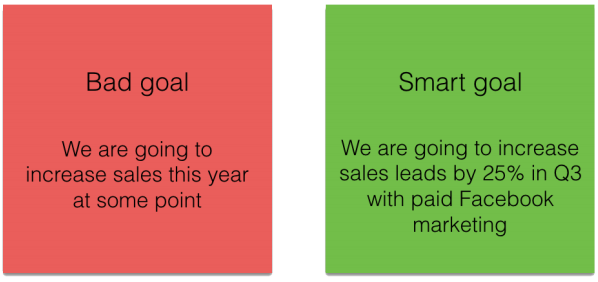 Take a look at Hubspot's customer lifecycle model:
To translate, each of the stages really amounts to a specific business outcome that you're looking to achieve: